NF 252 Certification
Anicolor closed the year 2017 with the attribution by the French laboratory CSTB - Center Scientifique et Tecnique du Batiment - of the mark NF 252 applied to its aluminum systems of thermal break.
The decision on admission by the CSTB's evaluation committee was unanimous, after the results of the various audits that were carried out in which the conditions of manufacture, storage, packaging and shipment were examined and approved.
By assigning the right to use the NF 252 mark in our products, we take another step in the quality assurance we offer our customers and we can now also compete for French public works, where one of the obligatory conditions for this is the granting of the certification that we have now been awarded.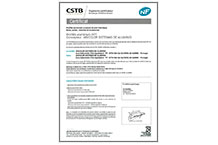 Dec/2017